How to Track Cryptocurrencies With Threshold Notifications
We all want to trade Cryptocurrencies at the right time, but we can't check the prices frequently. How about having a price chart that list the market values of the Cryptocurrencies that updates real time? How about setting upper and lower threshold prices and getting E-mail notifications when it's violated?
There is a Google Sheets Add-on for that purpose. You just have to add the list of Cryptocurrencies you want to track and upper & lower threshold values that's it.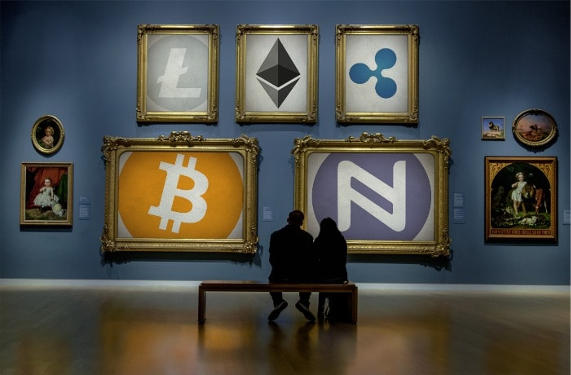 How To Use this Cryptocurrency Tracker
Open Track My Crypto Add-ons page, click on Free. A Spreadsheet will be opened and it'll ask you to authenticate access. Choose your Google account and click Allow. Now, go to Add-ons → Track My Crypto → Add a Cryptocurrency.
Select the Cryptocurrency and the currency, you can set the alert threshold values right away from the dialog or you can do it later. Now, Your sheet will be updated with the price chart of Cryptocurrency.

If you just want to check the price and don't want to receive notifications for a particular Cryptocurrency you can clear the Notification Settings column. The E-mail you receive will look like,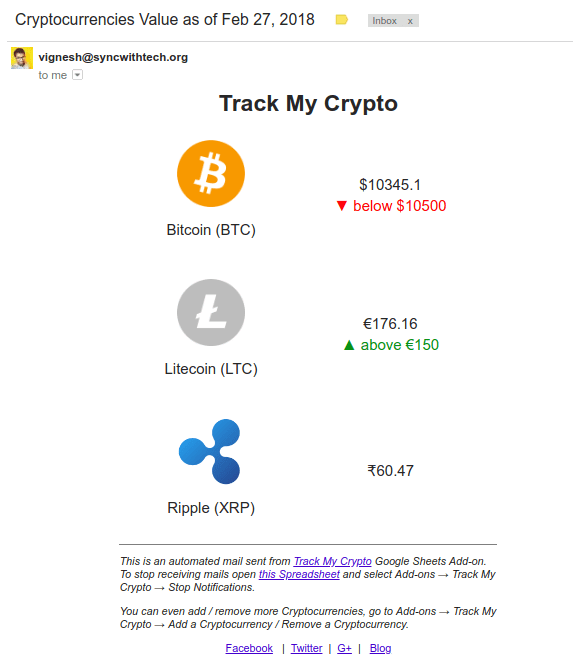 You can add as many Cryptocurrencies as you want. If you want to remove any of it from the Spreadsheet, simply select Remove a Cryptocurrency from the Add-on menu.
How to Set / Update Notification Settings
You can just set it while you add a Cryptocurrency or you can simply edit it on the Sheet, Add-on script takes care of the changes you make on Sheet.
How to Stop / Start Email Alerts
Anytime you can start / stop receiving mail notifications. Just select Start / Stop Notifications from Add-on menu.
How it Works
It makes use of two publicaly available APIs to get the market price. One is CryptoCompare and the other being currencylayer. Once in a hour App script runs on background and fetches the latest value of every Cryptocurrency you added by consuming CryptoCompare API and it converts it to the currency you opted for. It also updates the sheet with the values.
In case of any threshold violation, if the notifications had been enabled, it sends a mail to the owner of the Spreadsheet. The best thing is you can change the threshold values at any point of time. Mail alerts will be sent according to the value on sheet.
Whenever you open the sheet, the values refresh automatically, you can even do it manually by selecting refresh under Add-on menu.
We could make the background task run more frequently rather than once in every hour, but for a Google Add-on recurring tasks cannot run more frequently than once per hour.
You may also like - YouTube tracker.
Cryptocurrencies Supported
For now, Bitcoin (BTC), Bitcoin Cash / BCC (BCH), DigitalCash (DASH), Ethereum (ETH), Ethereum Classic (ETC), Golem Network Token (GNT), IOTA (IOT), Litecoin (LTC), Monero (XMR), OmiseGo (OMG), Ripple (XRP), Waves (WAVES), and ZCash (ZEC) are supported. If you want a Cryptocurrency to be added, just leave a comment in this post.
Currencies supported
You can get the values in any one of the currencies mentioned: Australian Dollar (A$), British Pound (£), Euro (€), Indian Rupee (₹), Swiss Franc (Fr), and US Dollar ($).