How to Read Medium Member-Only Articles for Free
Medium is an awesome platform with a lot of great content. People love it. The newsletter they send is useful more often than not. Sometimes when you see a compelling title for a post and click on the link to read the article. You get this,
You read a lot. We like that.
You've reached the end of your free member preview for this month. Become a member now for $5/month to read this story and get unlimited access to all of the best stories on Medium.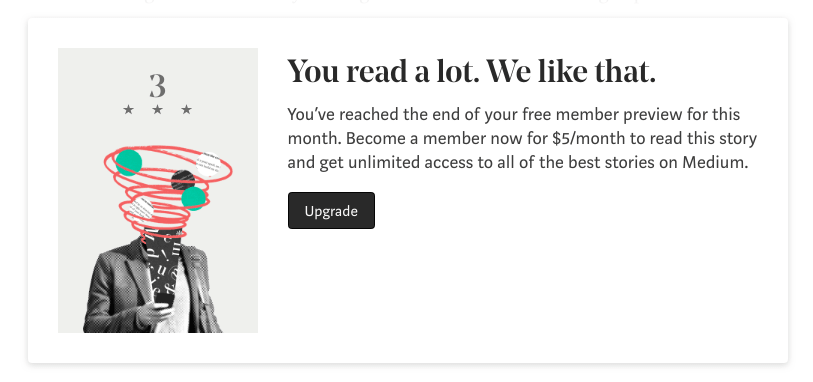 Same thing is applicable when you browse their homepage. Mostly 3 out of 5 articles are non-readable because you're not a paid member. Membership costs about $5 a month. For some reason, you don't want to pay 5 bucks to Medium every month. Fine. There's a way you can read those member-only articles for free. Also, trust me we're not going to do anything unethical here.
The simplest way would be opening the article in incognito mode. So, right-click → Open link in incognito window. You can also sign out of your account to read the Medium post in a normal browser window.
Get rid of annoying popups & scrolling navbars
When you browse Medium without signing-in, you'll be occasionally asked to sign-in. Also, you'll see scrolling navbars which may negatively impact your reading experience. You can make use of make medium readable again browser extension for a hassle-free reading experience.
Workaround for Medium mobile app
On the mobile app, you can follow the same trick. Click on the hamburger menu in the top right corner. Then, select share → Copy to clipboard. Now, your clipboard has the title of the article along with the link. Cut the link alone and paste it in an incognito/private browser window. You'll be able to read the content.
I have built an app to check the things that matter to you the most with a single click. If this interests you, you can give it a try on getradar.co.