How to Know a Twitter Poll Result Without Voting
Polls reveal people's opinion. When you vote in a Twitter poll, your identity remains private. You know the poll result when it ends or after you vote. End time of a poll is configurable by the original poster. It varies from 5 minutes to 7 days. Sometimes you may want to know the poll result before voting for some reason.
With the help of a bookmarklet, you can do that. Just click and drag the button below to your bookmarks bar.
How it works
Twitter hides the poll results with the help of CSS & JS. It is there on the document for us to find out. All we have to do is inspect element and search to get the result. I simply wrote a JavaScript function to loop through the HTML elements to grab the poll result.
Then, I created a bookmarklet for the ease of use. You can find the Twitter poll result script as a gist.
Now, all you have to do is open any tweet with a poll and click on the bookmarklet.
On Mobile
On mobile app, you can know the poll result without casting your vote to any of the choices. All you have to do is, open the poll page, become offline by turning off mobile data & WiFi. Now, continuously tap any of the choices, Twitter will give away the poll result for a moment.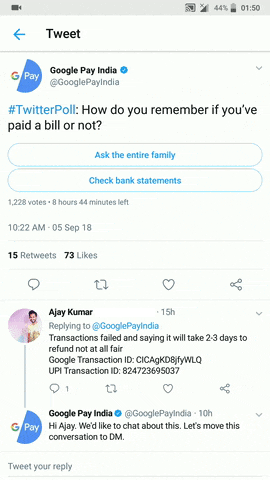 Limitations
As this bookmarklet relies on PollXChoice-choice, PollXChoice-choice--text classes and permalink-overlay-dialog id to display the result, it may not work as expected, if Twitter changes those class or id names. Hence, if this trick doesn't work, please let me know in the comments section.
Mobile trick works only on mobile app, you can't make it work on Twitter mobile web.